Garage Shelving / Garage Storage
(Monkey Bars Garage Storage Systems)


About The System | Three Types of Shelving | How Monkey Bars Works | Hook Selection | Accessories | Work Spaces
Garaginize which services the Raleigh / Durham / Triangle areas offers garage shelving with an outstanding weight capacity of 1000lbs/per 4'linear feet. Our patented wall mounted shelving brackets are secured to wood studs using 3"x3/8" lags screws. We also have the ability to install our garage storage shelving units on walls made of solid concrete, concrete block, brick or metal studs with unique industrial fasteners. The metal shelving components are finished with a clean powder coated finish for durability and a clean look.
The Monkey Bars Shelving is just one of the great features to our garage storage solution. The second feature is our adjustable bars and hooks which can be moved around the system to best fit your storage needs. No other garage storage system offers this kind of flexibility.
Call Today at (919) 434-0701 or email us @ bobdean@garaginize.com for a free consultation, design and estimate. To view our current garage storage installation offer on your next Monkey Bars Storage System Click Here! To see how our garage accessories compliment the Monkey Bars Storage System and making it the most versatile garage storage system available Click here.
Garaginize offers FREE tips on How To Get Organized. Just fill out the form to the right and we will send you our free tips on how to Get Organized! In addition we will send you another offer to save even more on your next Monkey Bars Storage System.
About The System
The Monkey Bars Garage Storage System is the most versatile garage organization system on the Markey today. Why?  With all the variations of a normal garage storage shelf you will be able to find the right garage shelving tailored for your own garage storage system. Take advantage of space around windows by using inverted shelves. Get drop down shelves to have the option of more or fewer shelves by simply raising or lowering a shelf. The options and variations are endless.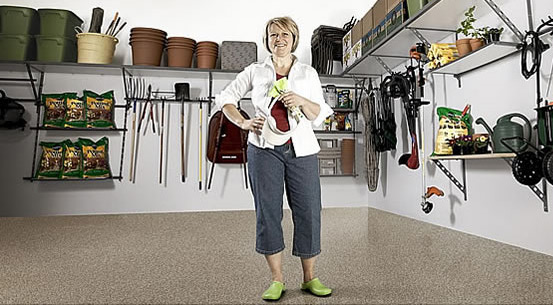 ---
Three Types of Monkey Bar Shelving...Easy as 1, 2, 3
Adjustable 24" Deep System


Adjustable 24" Deep System
10 Variable Height Hanging Slots


Adjustable 16" Deep System


Inverted System 24" Deep
(No Hanging Capability)



Choosing the Right Style for your
Garage Project...

Don't worry about making the right choice...

When a Monkey Bars of North Carlolina Representative provides you with your In-Home-Consultation, they will look at your garage, the items that you need to store, and make recommendations based on your specific garage.

It is common that in most residential garages multiple styles of shelving are used to create the perfect Garage Solution.
---
How the Monkey Bars Adjustable Garage Storage System Works
Step 1

Take a Monkey Bar and select your desired hanging height in any of the 10 slots based on the size of the particular item you wish to hang.



Step 2

Using the Spring-Loaded Locking Pin push down and lock the Monkey Bar into place.



Step 3

Choose your desired hook to hang your item of choice.



Step 4

Snap the hook down in place on the bar and you are ready to hang!


---
Hook Selection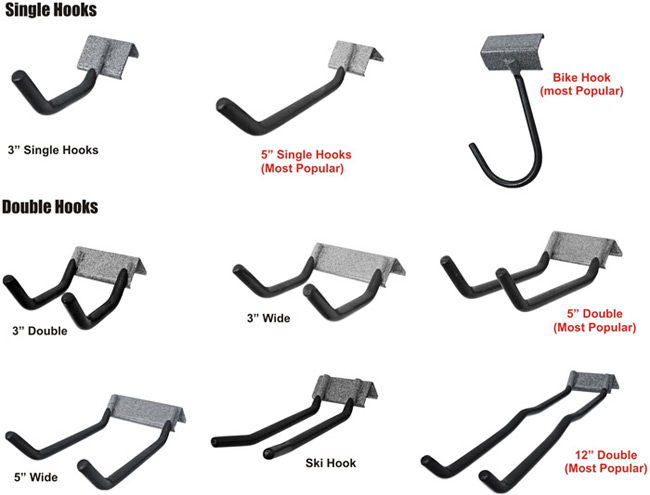 ---
Wall Mounted Brackets
Monkey Bars can be mounted directly to the wall with two varying depth brackets.

This provides for items that are taller than the height of the Monkey Bars to the garage shelving, such as ladders.

They are also useful to those wanting to hang items in other areas of the garage where shelving won't fit.

These further allow you to utilize the full potential of your wall space.
---
Accessories
| | |
| --- | --- |
| Sports Bag / Ball Bag | Storage Baskets |
| Portable Shelf | Drop Down Shelves (Set of 4) |
| Bucket Racks (buckets not included) | Saddle Rack |
---
Custom Work Spaces




A very popular accesory of the Monkey Bars Garage Storage System are the custom made work spaces. They can be integrated below the actual shelving system or as a stand alone unit on a seperate wall space in the garage.

There are four main advantages these have over conventional systems.

1) They are Off-The-Floor.
2) They can be set at any height and tailored to your stature.
3) Support 1000 lbs of weight.
4) Tops can be made virtually any shape and size.

We provide custom pegboards and lighting.


---
Garage Storage Raleigh NC, Garage Shelving Durham NC, Garage Storage Solutions RTP
If you are looking for Professional Garage Storage Solutions in Raleigh or surrounding areas then look no further than Garaginize Garage Solutions Pros. Based in the heart of Raleigh/Durnam/RTP we are your source for garage shelving in Raleigh, garage storage in Chapel Hill, overhead garage ceiling storage in Durham or any other city in the Research Triangle area.
We offer our garage storage services to the following cities/towns across the Triangle Area:
Chatham County:  Bear Creek, Bennett, Bonlee, Bynum, Fearrington, Fearrington Village, Goldston, Gulf, Moncure, Pittsboro, Siler City Durham County: Bahama, Durham, Eno Valley, Research Triangle Park, Rougemont, Rtp, Shannon Plaza Johnston County: Benson, Clayton, Four Oaks, Kenly, Micro, Pine Level, Princeton, Selma, Smithfield, Wilsons Mills Orange County: Carrboro, Cedar Grove, Chapel Hill,Efland, Hillsborough Wake County: Apex, Brentwood, Cary, Eagle Rock, Fuquay Varina, Garner, Holly Springs, Knightdale, Morrisville, New Hill, Raleigh, Rolesville, Wake Forest, Wendell, Willow Spring, Zebulon
Contact Us today for all your Garage Storage Solution needs - 919-434-0701