Garage Storage Solutions Morrisville, NC

If you live in the Morrisville, NC area and are in the market for professional garage storage solutions including garage shelving, garage overhead ceiling storage, garage cabinets or garage racks, Garaginize is the right Garage Storage Solutions Company for you.
We Transform Your Morrisville, NC Garage into an Organized and Fun Addition
If you find your garage is short on space and it's totally cluttered, we at Garaginize can transform your garage into a fun addition to your home or commercial garage.  We achieve this organization through the installation of Monkey Bars garage storage shelving, overhead garage ceiling storage, overhead garage ceiling racks and garage cabinets.  Whether you want to use your garage for parking your car or if you'd like the space to work on projects, we at Garaginize can turn your garage into a space you love.  To learn more about our amazing garage solutions, please click here (link) and see why those in the Morrisville, Cary, Durham, Wake Forest, Raleigh, Holly Springs, Apex or Chapel Hill North Carolina area, choose Garaginize.
Outstanding Garage Shelving in the Morrisville, NC area
If you are in the market for beautiful new garage shelving or other types of garage storage solutions, Garaginize can help you select the right style of garage cabinets, shelves and racks that not only provide greater functionality, but will enhance your garage environment. In almost no time flat, our Monkey Bars garage solutions will turn your disorganized garage into an efficient space, one that offers you a plethora of storage options.  Imagine what it would be like when all your tools, household accessories, bikes, sporting equipment and any other objects are neatly in their own place.
Garage Cabinets in the Morrisville, NC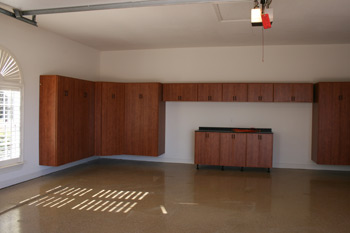 Let's suppose you choose garage storage cabinets and you want them to have maximum strength to hold as many items as possible. Perhaps you want wall-to-wall cabinets that go throughout the garage?  Our many different garage cabinet options will fit your needs and meet any budget.  And once we've installed your garage storage solutions you'll find everything fitting into your garage cabinets perfectly. Our installation coupled with the quality of Monkey Bars garage cabinets' means you can count on having more weight than any other system.
Premier Garage Overhead Ceiling Racks in Morrisville, NC
If you're living in the Morrisville, NC or surrounding triangle area, and you are in the market for premier garage overhead ceiling racks, you have come to the right place. We are the premier resource for garage ceiling overhead racks, so if you're ready to see what makes us different, we'll come by and do what we do best….give you back your garage space with the finest overhead ceiling racks on the market.  We love helping our clients create an organized garage, so call us at (919) 434-0701 or feel free to fill out our contact form and receive a no obligation free estimate of our products and services.