Garage Storage Solutions Durham, NC


If you live in the Durham, NC area and are in the market for professional garage storage solutions including garage shelving, garage overhead ceiling storage, garage cabinets or garage racks, Garaginize is the right Garage Storage Solutions Company for you.
Garage Storage Solutions in the Durham, NC and Surrounding Triangle Areas
Regardless of your location, whether you live or work in Durham, Wake Forest, Raleigh, Cary, Morrisville, Holly Springs, Apex or Chapel Hill North Carolina, we at Garaginize will cover all your garage organization bases.  We install garage shelving, garage racks, garage overhead ceiling racks and garage cabinets that allow you to utilize every bit of space in the garage.  Using the Monkey Bars system, based on a revolutionary design that incorporates quality steel coupled with unique engineering, we make sure all items are in their proper place and not cluttering the floor.  Best of all, the foundation of the system is simple and can be mounted to wood studs, metal framing concrete or even brick.  To learn more about the most versatile garage organization system, click here (link) to learn more about Monkey Bars garage shelving. 
Garage Overhead Ceiling Rack in Durham, NC that are Fully Adjustable
If you are in the market for the finest constructed garage overhead ceiling racks in Durham, NC, we at Garaginize install uniquely, patented garage overhead ceiling racks that keep your Durham home or commercial garage efficient and organized.  Because of the extensive support using heavier gauge steel and square tubing along with mounting to 4 ceiling joints with 16 screw lags, you can store the maximum amount of items on only one overhead ceiling rack adding a great deal of extra space to your garage.  If your goal is find the strongest and most efficient garage solutions, we at Garaginize will be sure to install overhead ceiling racks that hold more than you ever imagined. 
Garage Cabinet Solutions in the Durham and Triangle Cities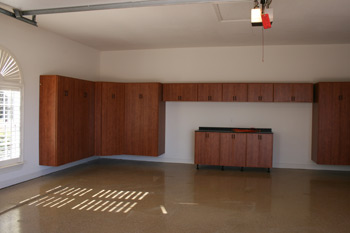 Whether you are located in Durham, NC or any of the surrounding triangle cities, if you're searching for garage cabinets in either economical grade all the way to stylish European grade, our cabinets will add more space to your garage. From Durham to Wake Forest, Raleigh, Cary, Morrisville, all the way to Holly Springs, Apex or Chapel Hill area, the highly professional garage storage team at Garaginize is the company to choose. Using the Monkey Bars system, you will finally be able to use your garage in the way it was intended…. for your car and to store items neatly. To learn more about the miracle engineering of Monkey Bars cabinets, please call us at (919) 434-0701 or feel free to fill out our contact form and receive a no obligation free estimate of our products and services. 
Call us and discover our unparalleled garage storage solutions.